---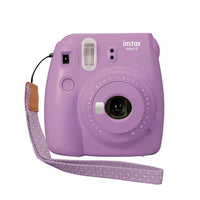 Usual Price: P4,100 (unit only)
Dealsonline Miyoshi Package: P3,990
F R E E ITEMS worth up to P600(8 items)
• 1 pack plain film
⠀⠀⠀(10 sheets | P350 SRP)
•1 pc Mini Instax Album 12/24 slots
•1 pc Photo holder
•5 pcs film skin stickers
•10 pcs wooden clips
•2 yards jute string
•1 pc korea happy day gel pen
•1 roll neon paper tape 9mmx5mm)
Product Features
•Integrated mirror next to the lens frames your face so you can capture the perfect selfie
•Close-up lens attachment lets you snap instant photos as close at 35cm to 50cm
•Automatic flash gives you the freedom to take crisp photos in various lighting condition
•Brightness adjustment dial features various modes -- indoors, cloudy, sunny, very sunny -- and automatically adjusts the brightness and setting based on your chosen mode.
•Choose high key mode on the brightness adjustment dial to take photos with a softer impression.
•The 1/60-second shutter speed ensures photos are captured in an instant.
•Uses Fujifilm Instax Mini Instant film, a credit-card-sized film that has a white frame that can be left blank or written on (film sold separately).
 •A built-in lens cover protects the camera lens and automatically opens when the camera turns on.
Which is better the Mini 8 or the Mini 9? Well, the answer is both. The core of these 2 cameras is the same. With the small improvements and included accessories, the Fujifilm Instax Mini 9 just edges out the older Mini 8. But both cameras a great and are so fun and easy to use. If you want the simplest instant film camera to use then either of these will do the trick.
Which one should you pick? In Dealsonline/ Lemonstring opinion, PICK THE COLOR YOU LIKE THE MOST. The choice of colors is the main advantage of these models. You can personalize your camera to suit your style. If the color you want happens to be an Instax Mini 8, our instax mini 8 package has one of these macro lens attachments as well and it's free worth P300, Close up lens and mirror. So our question is, WHAT'S YOUR FAVORITE COLOR?