---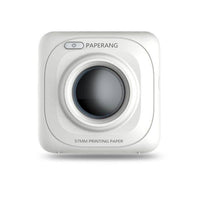 Wish you could print anything from your phone with an affordable and portable mobile printer? Finally, Paperang P1 is really here!
Paperang P1 is a portable wireless printer that is easy and fun to use, can be taken anywhere, prints from any device (laptop, tablet, smartphone, you name it!). Using thermal paper, no ink required, it could print anythingshown on your smartphone's screen in black and white, like photos, documents, messages, web page, etc. And what is most important, the size of Paperang P1 printer is small enough to fit perfectly in your pocket or bag.
We have developed both Android and iOS App for Paperang printers. Paperang App has 8 different functions that simplify your daily life, you can print a lot of amazing things.
Features 
Portable: How small is it? 83x83x45mm. This is one of the reasons Paperang is regarded as the best portable printer. It has a compact shape and an in-built battery. You can nearly fit it into your shirt pocket and take it anywhere.
Easy to use: Just turn on Paperang P1 printer, connect via Bluetooth through Paperang App on your phone. Since it is a thermal printer, there's no need for those messy and expensive ink cartridge refills.
Multifunctional: In addition to photos, you can print little notes, labels, to-do list, shopping list, recipes, barcodes, memos, etc. Great for planning, journaling and scrapbooking. The Paperang APP application provides a wide variety of filter effects, themes, and fonts to make your text or photo stylish
Convenience: Paperang P1 lets you keep track of your life and work anywhere and anytime. This allows you to share your happy and special moments instantly with friends.
Durable: Built-In 1000mAh rechargeable lithium-ion battery that can last for 24 hours, continuous printing for 4 rolls of paper.
Specifications:
Printing Method: Thermal Printing
Size: 3.27 x 3.27 x 1.8 inches (83*83*45mm)
Battery: 1000mAh Lithium Battery (built-in)
Interface: 5V-microUSB
Resolution: 200dpi
Consumables specification: 57*30mm
Connection: Bluetooth 4.0
System: for android 4.0, for IOS8.0 or above 
Package includes :
1 x

 

Paperang P1 Printer 
1 x

 

Thermal

 

Paper Rolls
1 x Charging Cable 
1 x User Manual