---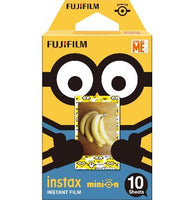 Sale
"instax mini" film is for all instax mini cameras and comes in a handy cartridge. It offers stunning instant pictures that you can fit into a purse, wallet or mini photo frame. instax film ensures sharp, clear reproduction, vivid color and natural skin tones.
| | |
| --- | --- |
| Film size | 54(W) x 86(H) mm |
| Picture size | 46(W) x 62(H) mm |
| Number of prints | 10 per pack |
We keep our instax films in a drawer and sealed tightly and stored upright in a cool, dark, dry location free from temperature fluctuation so we can get a lot longer shelf life than what the box says. Don't worry.
Terms and Conditions:
•  Items are available while stocks last.
• Expiry date: January to March 2018.
• No returns and exchanges allowed.
• In an event of unforeseen circumstances, Dealsonline reserves the right to refund or counter propose an alternative promotional instax films.
Does expired instant film still work?
YES! It most certainly can. Depending on how you store your film, you can get a lot longer shelf life than what the box says.
I've used expired Instax film ranging from a few months to 3 years out of date. Most of the time the photos have come out fine; you wouldn't even know that it was expired film. Then I've also taken some photos that developed a little more white washed or faded looking, but the washed out colours on the film actually looked rather nice. They were still full of colour they just weren't as saturated as the fresh stuff. As the photos were taken outdoors in the sunshine it didn't make too much of a difference on the developed picture anyway, it just added a slight filter on them.
So, what happen if you use the expired one?
Nothing to worry about, really.
I did try once, your photos will still be okay, it's just that the color will turn into a sephia color. A bit yellowish and like an old photos.
But one of my friends told me.. it all depends on how you store / keep your films. He used an expired film before and the photos turned out to be really great, just like new.