---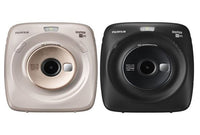 Usual Price: P13,000 (no freebies)
Dealsonline: P12,500 with free worth up to P800 (1 item)

FREE ITEMS w o r t h up to P800 (1 item)
•1 16GB Micro SD card (U.P. P800)

SHOOT, REWIND, PRINT
HYBRID INSTANT CAMERA
* ・Shoot images while looking at the monitor, and re-shoot if necessary.
* ・Enjoy editing photos with a variety of filters.
* ・Create and print new image compositions with the built in crop tool.
.
The instax SQUARE SQ20 allows you to creatively showcase the beauty of moving subjects. Whether you're capturing that exciting moment or a thrilling adventure the instax SQ20 allows you to enjoy photography and instant prints like never before.
SHOOT, REWIND, PRINT
FRAME GRAB
Shoot a video up to 15 seconds long, use the dial on the back of the camera to select the frame that captures the best moment and print your photo.
Capturing a moving subject has never been so easy.

TIMESHIFT COLLAGE
Four images can be taken with a time difference at one time. Press the shutter button to shoot when four images appear on the monitor. The time difference between frames can be adjusted within 0.2 to 2.0 seconds.
SPECIAL FILTERS"SEQUENCE"
Showcases the motion of the subject in an image to create a sense of action.